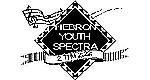 Hebron Youth Spectra is a youth ministry of Hebron Bible-Presbyterian Church. We seek to win youth with the Gospel of our Lord Jesus Christ and build multiplying disciples to help fulfil the Great Commission.
Join us if you are between 13-20 years old.
CONTENT










WELCOME TO HEBRON YOUTHSPECTRA HOMEPAGE
Hebron Youth Spectra was officially launched on 16 July 1995.
The age group of the youth ministry is from 13-19 years of age.
The mission statement of the Youth Spectra is,
" To win youths with the gospel of our Lord Jesus Christ and
to build multiply disciples to help fulfill the Great Commission."
Our Distinction
The name, Youth Spectra, symbolises many youths giving out light;
shinning for Jesus.
The word "spectra" is the plural of the word "spectrum".
Each of the seven colours of the spectrum represents a desired distinctive
of our youth.
        
Theme for 1999-2000
"One Heart And Mind for Christ: Unity that testifies"
John 17:20-21
One Heart & One Mind = Union with Christ, Unity with Believers, & Unity in Reaching Out
Objectives for 1999-2000:
1) To deepen our relationship with God through worship, prayer and Q.T.
2) To foster a sense of belonging among Hebron Youth through youth programme.
3) To reach out to Non-Christian youth through evangelistic meeting, witnessing and life-style.
---
* ©1999 Web posted :17/1/98, updated :21/2/99 by WebMaster, icq no: 6794982